Zagzagel Gundogs was formed by mother and daughter partnership Penny and Charlie Limer. All our dogs are first and foremost our family, however we do breed from some of them.
We breed Labradoodles, Fox Red Labradors, Cocker Spaniels, Cockapoos and English Springer Spaniels.
We only breed between 1 and 3 litters a year and are very selective who our puppies go to. Our new owners all keep in touch with each other via a private Facebook group, so they can see their littermates growing up.
We are meticulous in carrying out health checks to ensure all our puppies are healthy and free from genetic problems.
Our Litters
In 2016 and 2017 we had   litters of
Labradoodles .   Ballymara's Liesel of Zagzagel  [Piper] our beautiful Fox Red Labrador was the Dam and a red minature Poodle Chirae Pinot Noir (Biscuit) was the Sire.
In 2018 we had 2 litters of Red Fox Labradors and one of Cockapoos.  The Labradors Dam was Aria (Blackmere Teal of Zagzagel) and the Sire was the very handsome Wellington (Ettinsmoor Sandman of Bellaroyal).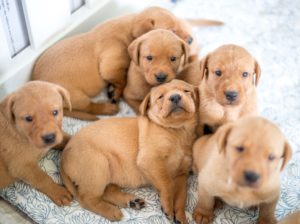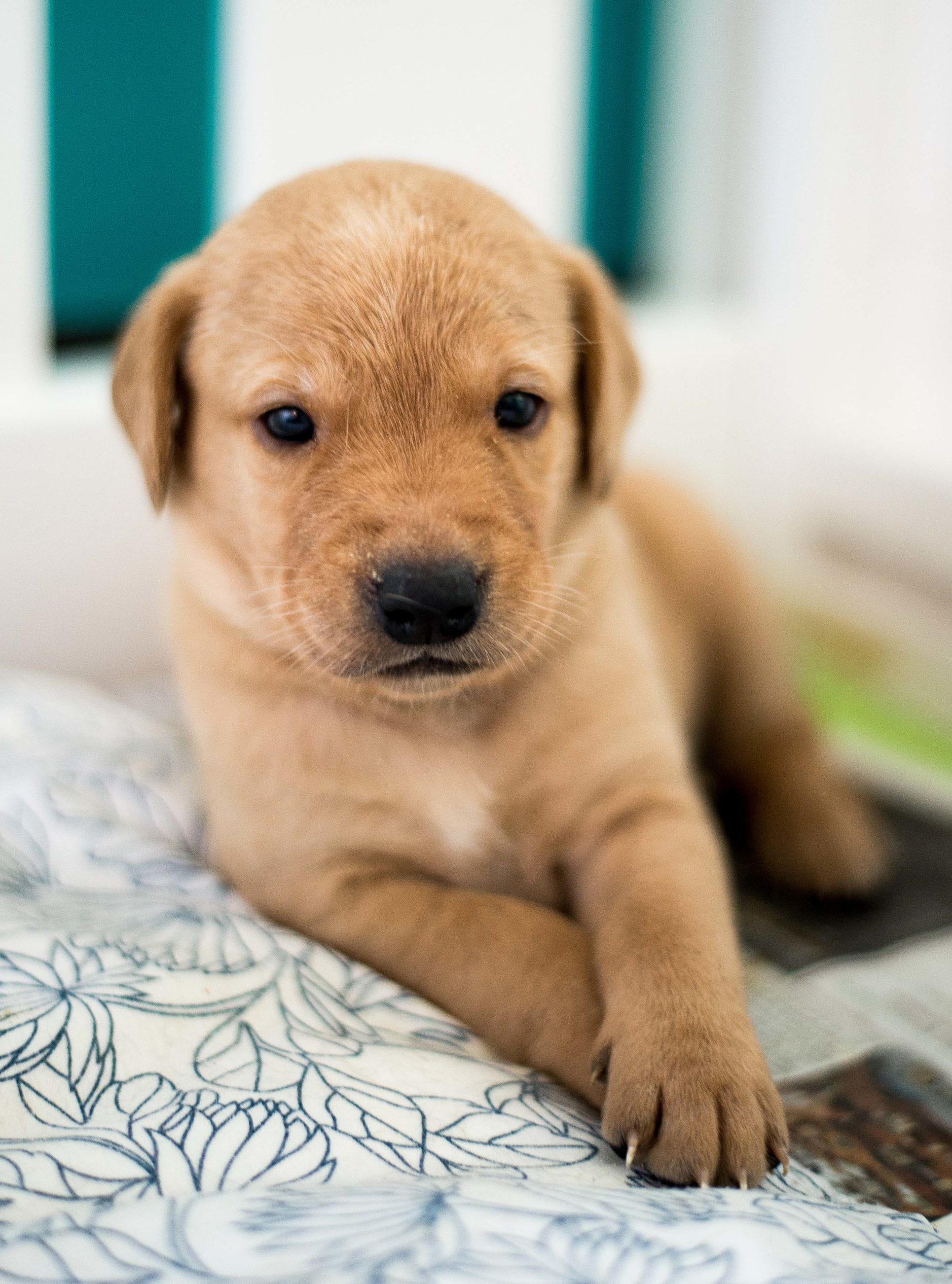 Our Cockapoos were from our Cocker Spaniel Lily (Joyeus Dasher of Zagzagel) and again Biscuit (Chirae Pinot Noir), the same red minature Poodle we used for our Labradoodles, was the Sire.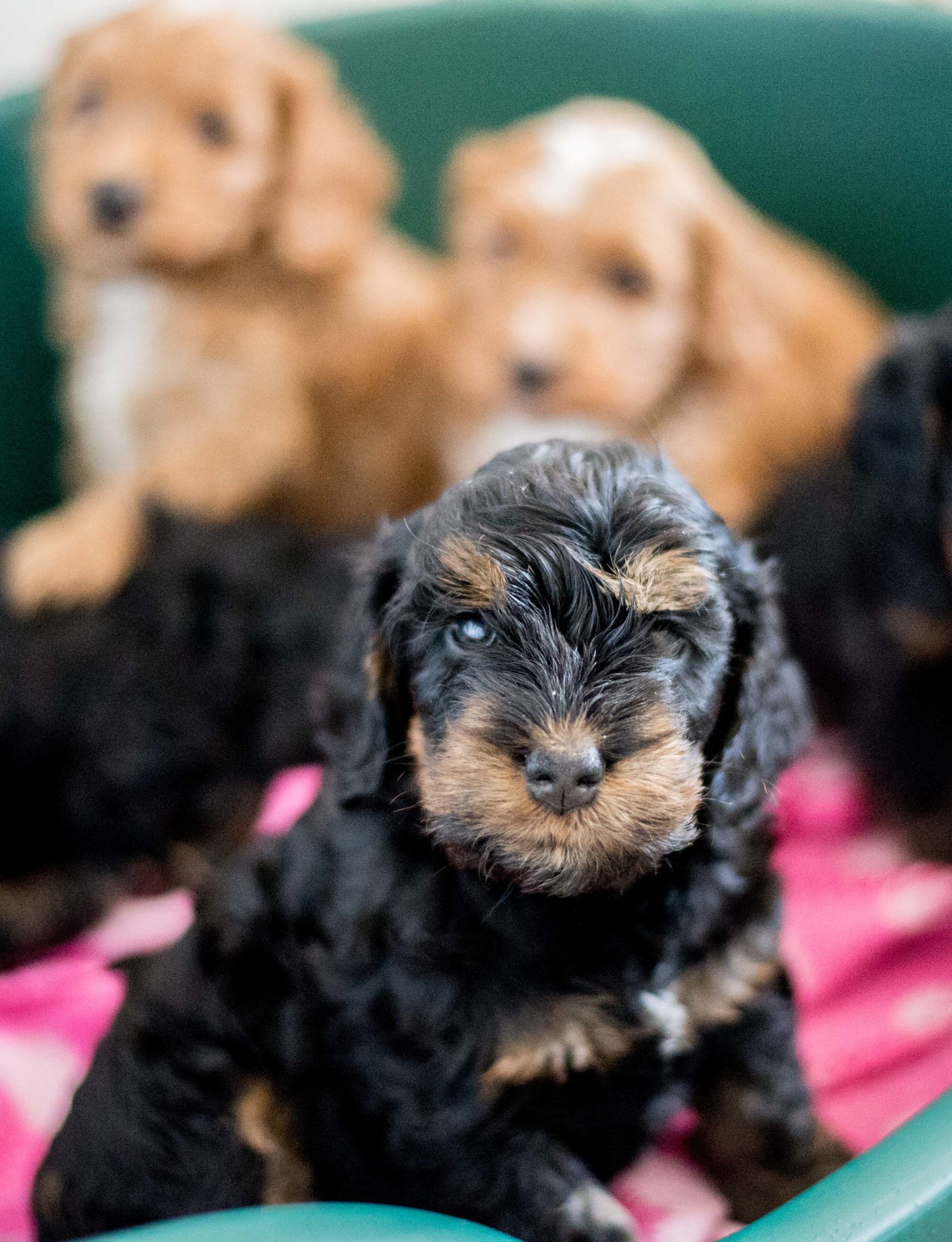 In 2019 we are planning to have another litter of Labradoodles, a litter of KC registered Pedigree Cocker Spaniels and a litter of KC registered Pedigree English Springer Spaniels. If you would like to go on our waiting list, please email us on info@angelwood.org.uk
English Springer Spaniel Stud Dog
We have an incredibly handsome 4 year old English Springer Spaniel Stud Dog (Zagzagel Dark Prince (Kol)) . His father (Spamvalley Colt Stud Book No: 2949CS) is a Field Trial Champion  and his grandfather (Bryngwrhyd Harry of Flashberry) is a Field Trial Award Winner.
Kol has the most wonderful, affectionate temperament and he has been a dream to train. As with all Springers he loves to explore the undergrowth but he will return to heel as soon as he is called. In the evening he is normally found curled up next to us on the sofa.
Kol has undergone extensive health tests and has passed all with flying colours.
If you would like to procure Kol's services please email us on info@angelwood.org.uk
Our breeding Dam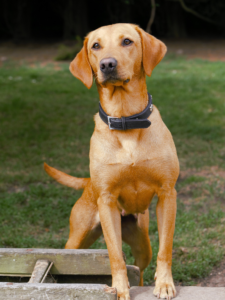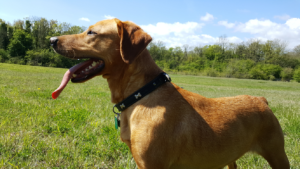 Ballymara's Liesel of Zagzagel our Fox Red Labrador
We are always very careful to select the best sires for our puppies both in terms of pedigree and  temperament.
All our puppies are born in our home and are brought up amongst our other pet dogs and children, using the very best food and milk. All our dogs stay with us for life. We never breed our bitches more than once a year, and never more than four litters. All pedigree dogs are KC Registered.
By the time the puppies leave us, they are socialised, cuddled, have been taught manners by the adult dogs and are used to all the sounds of the family home.
As nearly all of the dogs we have sold from previous litters have gone as family pets rather than working dogs, we do not dock the Springer Spaniel puppies as standard. In fact our puppies have quite splendid tails. However we can arrange for this to be done if required, on production of the relevant gun dog certificate.
We have now bred 10 litters and we maintain a private Facebook Group [Angelwood Puppies] with all our puppy owners so they can share photos and information. We also keep in touch with many of our new owners as they bring their dogs back to stay with us at Angelwood Lodge when they are away and even arrange birthday parties.
3 generations of our Springer Spaniels now live here. Our aim is to be the most ethical and caring dog breeders in Wales.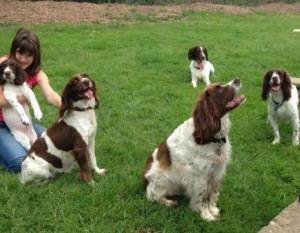 5 generations of Springers in one picture
Some pictures of one of our previous Springer litters